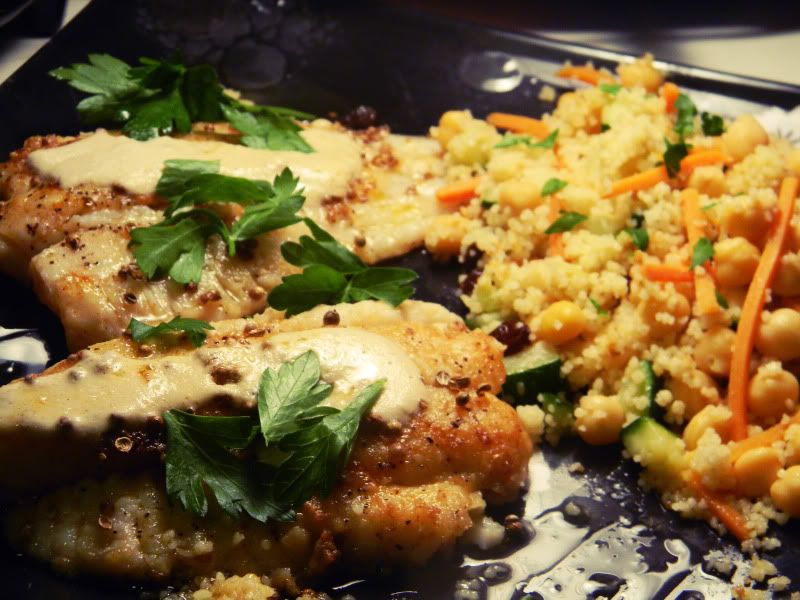 My first experience cooking with tahini was last year. I made some chicken tacos where the marinade involved tahini, gin, and other bizarre and wonderful things. I might just have to remake those soon so I can blog about it. So yummy were they.
Tahini is a sesame seed paste that somewhat resembles (both in consistency and smell) a watered-down creamy peanut butter. Though that doesn't sound very appetizing (especially since crunchy peanut butter is a million times better), tahini makes up for it in flavor. You'll find it most often in things like hummus or baba ghanoush. Definitely a Middle Eastern ingredient.
However, most of the complaints I read about this recipe (though there were a lot of raves too) involved the overwhelming taste of tahini. When making this, I strove to temper the sesame seed flavor while making sure the fish was representing itself well too.
I made the sauce by combining tahini, crushed garlic, water, lemon juice, cumin, salt, and a little white vinegar in the food processor. I processed the sauce for less than a minute until it was smooth. I didn't want to process too long, though, as that would further bring out the tahini flavor.
For the catfish, I dried the fillets and then seasoned them with salt, pepper, and paprika. I then heated a tablespoon of oil in a large skillet over medium-high and seared two fillets at a time. After three or four minutes, I flipped the fish and sprinkled each fillet with crushed coriander seeds. Then I let the fish finish cooking through (another two or three minutes), and transferred them to a platter. I added more oil to the skillet and then did the next batch in the same manner.
I would have Andy write about the spicy Egyptian couscous, since I didn't even really make it, but he's at work and I'm not entirely sure he would otherwise...so I will take you on this journey instead! For some reason, I feel like Ms. Frizzle from
Magic School Bus
, but I'm not sure why.
Andy began by chopping his zucchini up into 1/2-inch pieces. We bought the carrot shredded, so there was no worry about preparing it. He then fired up the couscous water, adding a little bit of butter and letting it boil before stirring in the couscous and raisins.
While the couscous cooked, he heated up a tablespoon of olive oil in a skillet and sautéed the zucchini and carrot for a few minutes until they were tender. He then stirred in coriander, cayenne, garlic, and cumin and let it cook for another minute before adding the garbanzo beans and water. All that was left at that point was to stir in the couscous!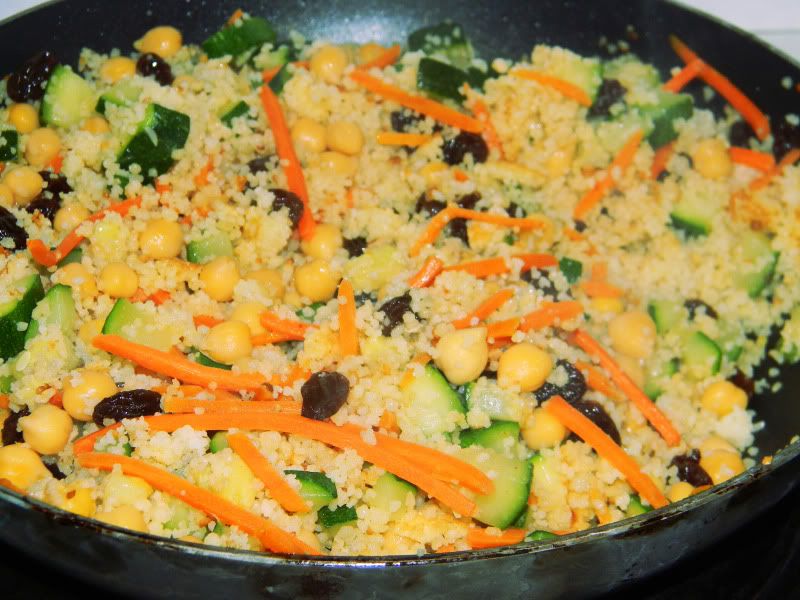 We then combined our two creations. I spooned tahini sauce over each fillet and then drizzled some of the oil and crushed coriander that was still in the fish skillet. Both dishes were garnished with parsley. It was all so good, especially since I usually forget a side dish, so it was nice to have that accompaniment. And I do believe the couscous outshone the catfish in this instance.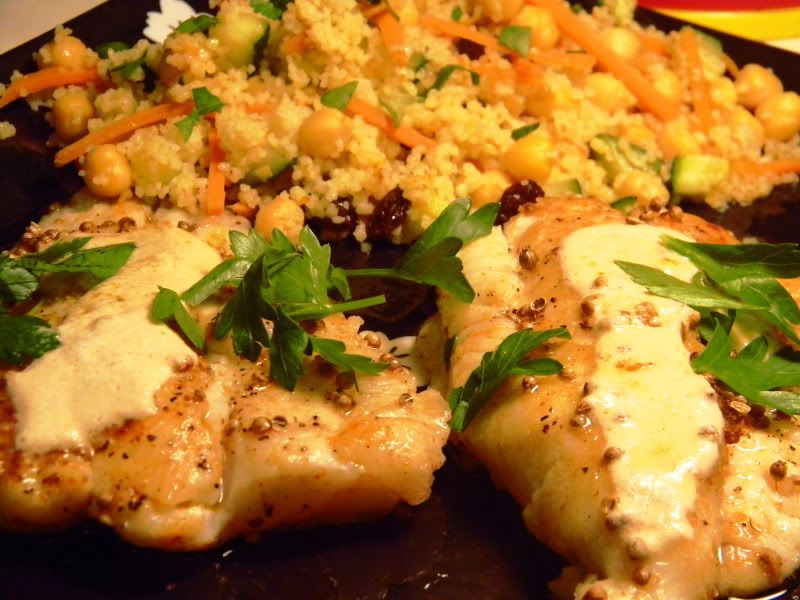 Catfish Fillets with Tahini Sauce (adapted from
Gourmet
)
3 garlic cloves, coarsely chopped
1/3 cup well-stirred tahini
2/3 cup water
1/4 cup lemon juice
1/4 cup white vinegar
1/2 teaspoon ground cumin
1/2 teaspoon salt
4 catfish or mahimahi fillets, skinned
Freshly ground black pepper
2 tablespoons olive oil
4 teaspoons coriander seeds, coarsely crushed with side of a large knife
Garnish: 1/4 cup coarsely chopped fresh flat-leaf parsley.
Spicy Egyptian Couscous (via
EgyptianFood.org
)
1 5-oz. package couscous
1/4 cup raisins
1 tablespoon olive oil
1 zucchini, cut in 1/2-inch pieces
1 cup carrots, grated
1/2 teaspoon coriander
pinch cayenne pepper
1 clove garlic, crushed
3/4 teaspoon. cumin
1 can garbanzo beans
4 teaspoon water
1/4 cup pimento-stuffed olives, chopped and drained (I left these out)
Parsley